More Website Templates @ TemplateMonster.com - December 26, 2011!

***************************************************************************************************************************************************
FLAME SPREAD TESTER/FIRE RESISTANCE TESTER
FOR RIGID NON-THERMOPLASTIC MATERIAL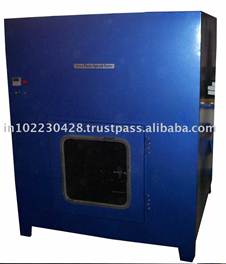 For the safety of the passenger, the material used in making of railway coach should be resistant to fire. There are different types of material used in making the coach. Some of materials are plywood, wood fiber sheets, chipboard, moulded laminated sheet, glass polyester laminated sheets etc.
The instrument used for testing the fire resistance for these material is known as "Asian Fire Resistance Tester of Rigid Non-Thermoplastic Materials".
The "ASIAN Fire Resistance Tester of Rigid Non-Thermoplastic Materials" made within the metallic closed hood of adequate Dimensions. The Inner side of the hood is fire resistance painted. There is exhaust system mounted on the top of the hood for exhaust the smoke from the hood after test. There is specimen frame for holding the test specimen and the specimen is hold on the specimen holder at particular angle. There is a specific crucible of specified dimension which are hold on an adjustable height frame. The crucible frame is mounted on the mid of the test specimen holder. A digital temperature indicator also mounted in the hood for measure the temperature of the hood.

The test specimen frame made of the stainless steel, crucible made of brass and the other pars are made of mild steel and are chrome plated or painted to give the instrument a corrosion free long life.
                                                           
TECHNICAL DATA
Size of closed hood : 1200 mm ×1200mm × 1390mm (approx)
Angle of test specimen to the horizontal : 45°

RELATED STANDARDS
UIC: 564- 2 OR Appendix 4.